You wouldn't think that an airport regularly named as the world's best would need any extra magic to help attract air passengers, but Singapore Changi is turning to young wizard Harry Potter for help.
The Southeast Asia hub has installed full-size replicas of locations featured in the Potterbooks and movies, offering devotees of J.K. Rowling's creation another reason to fly.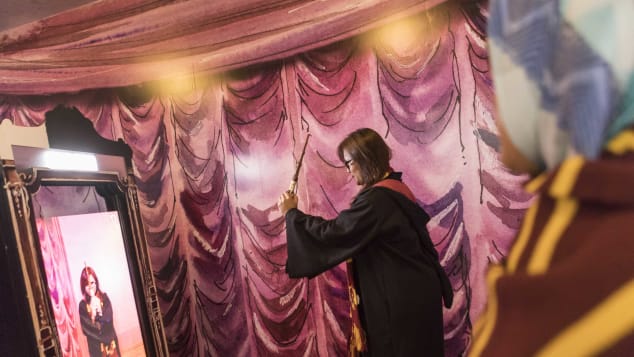 At this set-up inspired by Madam Malkin's Robes for All Occasions store, fans capture GIFs of themselves.
Changi Airport Group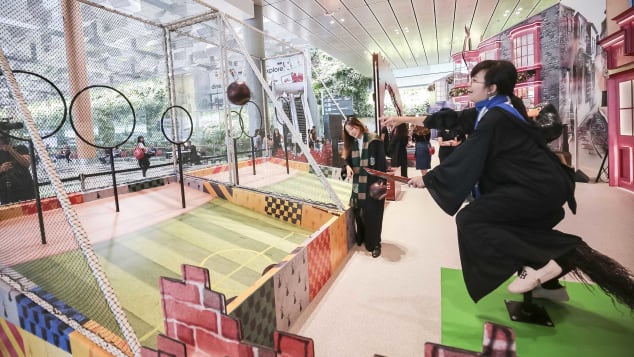 Fans balance on a broomstick while attempting this activity based on the wizarding sport Quidditch.
Changi Airport Group
Travelers not too overcome by jet lag or Potter fatigue can head to Terminal 3, which houses a Hogsmeade Village complete with Honeydukes sweet shop, Madam Puddifoot's tea shop, Zonko's joke shop, Owl Post and even the Hogwarts Express train.
Elsewhere in Terminal 3 visitors will find Diagon Alley, with shops such as Quality Quidditch Supplies and Weasleys' Wizard Wheezes.
Terminal 2, meanwhile, hosts the notorious Whomping Willow tree, while Newt Scamander's Menagerie, part of the new movie "Fantastic Beasts: The Crimes of Grindelwald," awaits in Terminal 1.
Changi Airport brings festive cheer to fans and visitors at its annual year-end event.
Changi Airport Group
This Terminal 1 Transit setup is inspired by Newt Scamander's Menagerie.
Changi Airport Group
There are Quidditch challenges, fancy dress Hogwarts uniforms and other themed activities designed to make a long layover pass faster than you can say "wingardium leviosa," and presumably encourage you to spend some money too.
Related content
Ride along with the Hogwarts Express
The "Wizarding World Holiday at Changi's" event opened on November 16 and will run until mid-February 2019.
For those who aren't interested in Potter, the airport also has various lounges, a butterfly garden and a wide selection of dining and shopping options.
Plus there are even free tours of the city available for passengers on longer layovers.
Related content
Changi Airport's funky, automated new terminal
Singapore Changi, which handled 62.2 million passengers in 2017, has been voted the world's best airport for six years in a row by the prestigious Skytrax awards, with the category dominated by Asian airports.
According to the Changi's CEO, Lee Seow Hiang, the award "spurs us to continue to deliver the best passenger experience for all who travel through Changi Airport."
And things are expected to get even better when the new "Jewel" terminal opens in 2019.
The 10-story, donut-shaped structure will center around a huge indoor waterfall and rainforest.
y.