This is an archived article and the information in the article may be outdated. Please look at the time stamp on the story to see when it was last updated.
From tree surgeons and campers to contractors and fireplace owners, anyone who has to chop wood knows how challenging it is. While using an ax or hatchet will get the job done, splitting and processing wood is a time-consuming task that can be dangerous if not performed properly. By using a log splitter, you can lessen the risks associated with swinging a sharp tool through the air and turn logs into kindling more quickly.
In this article: Kindling Cracker, Sun Joe 10-Ton Hydraulic Log Splitter and Boss Industrial 7-Ton Electric Log Splitter.
What is a log splitter?
Log splitters are tools that convert large pieces of wood into smaller, manageable pieces. They do so by holding a log in place and forcefully driving a wedge through it. While the means by which pressure is applied to the wedge varies based on the type of splitter, all of them work in a similar manner.
Manual log splitters
Kindling splitters are cast metal frames that hold a piece of wood vertically where it can be hit with a sledgehammer and pounded into the tool's upward-facing wedge.
Hydraulic log splitters multiply your strength into wood-cracking power with a large lever. After a log is loaded into the splitter, the lever is pulled to deliver up to 12 tons of pressure to the tool's wedge.
Automatic log splitters
Electric log splitters use a motor to deliver pressure. Because they don't require manual strength other than loading and removing wood, electric splitters are great for long work days.
Gas-powered log splitters can produce tens of tons of pressure and are built for industrial and commercial use.
Using your log splitter
Prepare your workspace. Remove tripping hazards and other objects from the area.
Use protective gear. Wear boots, leather gloves and eye protection. Depending on the type of splitter you're using and the environment you're working in, a hard hat and hearing protection may also be required.
Secure the log splitter. Only use your splitter on firm, even ground. For added stability, kindling splitters can be bolted to a stump or other hard surface. Automatic splitters generate tremendous force, so put blocks against the wheels to prevent rolling during operation.
Use prepared wood. Use logs that have been evenly cut. Failure to do so with a kindling splitter can result in your sledgehammer slipping off the wood. If an automatic or hydraulic machine's wedge is driven into an odd-shaped log, the wood may be dangerously ejected from the machine.
Load your wood. To load a kindling splitter, simply place your log vertically into the frame. To load a hydraulic or automatic log splitter, hold or otherwise secure the log in line with the wedge according to the tool's instructions.
Start splitting. If you're using a kindling splitter, a few firm hits to the top of a loaded log with your sledgehammer should be all it takes to chop it in half. If you're using a hydraulic splitter, pulling the tool's lever will push its wedge evenly through the log. Because automatic log splitters vary in features and operation, carefully follow the manufacturer's directions for safe, efficient use.
Reset and repeat. Remove the chopped wood from your workspace, follow the manufacturer's instructions on resetting your splitter and repeat the process.
Best kindling splitters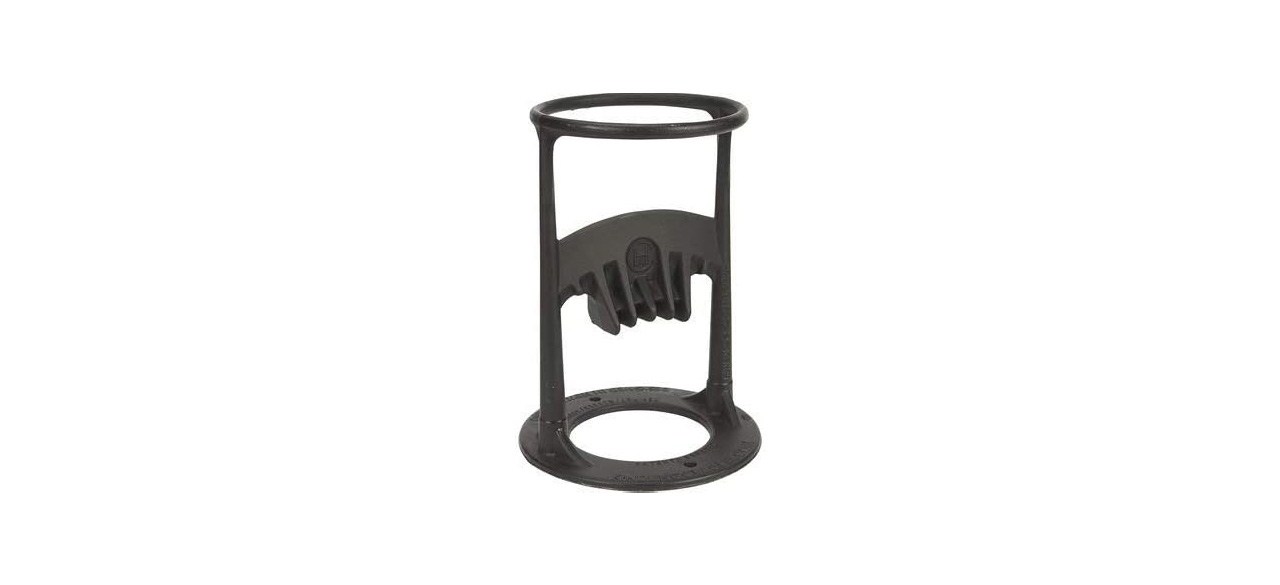 This manual log splitter has a 6-inch interior diameter and is made out of heavy cast iron. It is small enough to travel to the campsite and also has bolt holes in its base for mounting it as a permanent fixture.
Sold by Amazon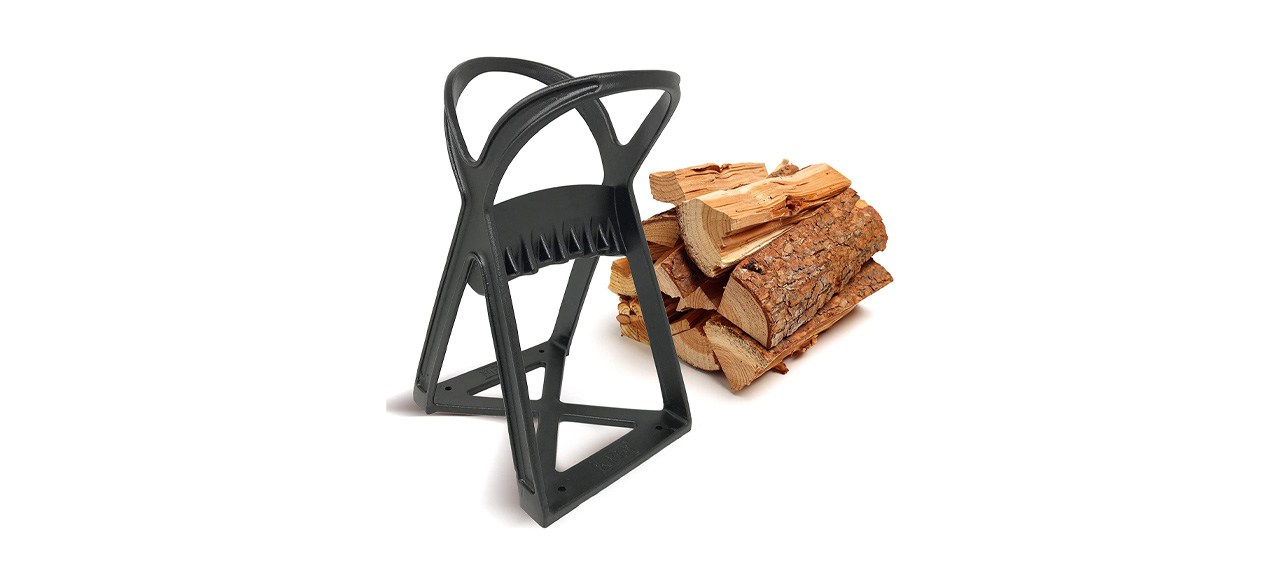 This convenient log splitter has handles on top for easy transport and features a box-like bottom space for carrying your kindling after you chop it. It's made of cast steel, which is more rust-resistant than iron.
Sold by Amazon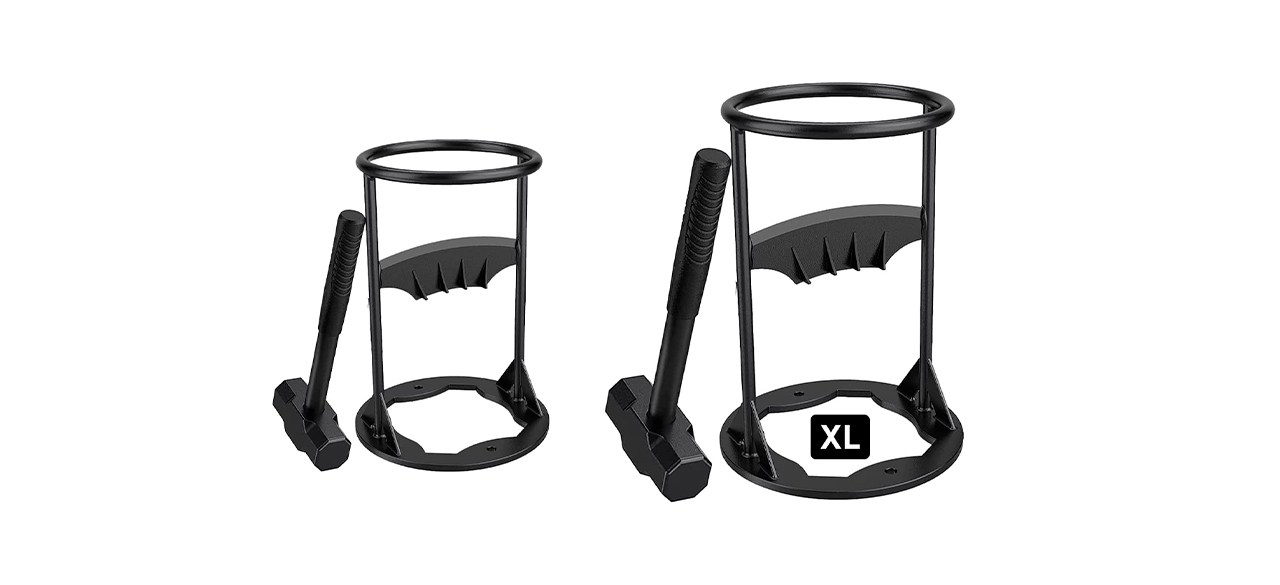 Blue Home Kindling Splitter with Sledge Hammer
This extra-large, durable steel log splitter can handle larger logs. It also includes a 5.5-pound sledge hammer, giving you all you need to tackle your woodpile or keep your campsite warm.
Sold by Amazon
Best hydraulic log splitters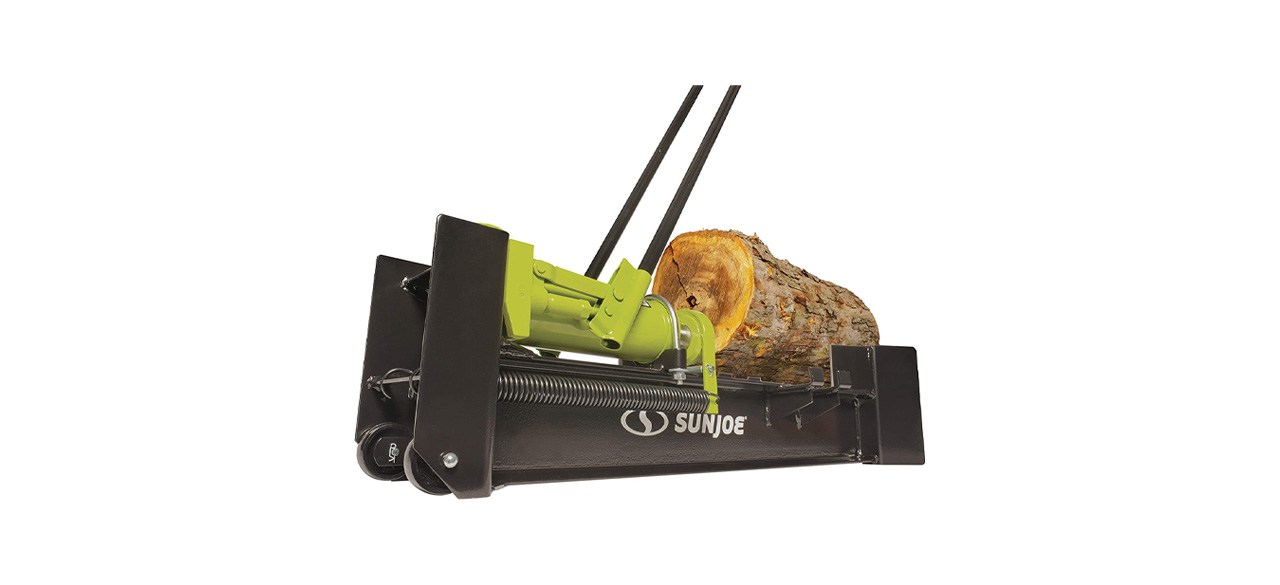 Sun Joe 10-Ton Hydraulic Log Splitter
You can turn your elbow grease into 10 tons of pressure with this hydraulic log splitter featuring steel construction and wheels for easy relocating. And you can split wood rapidly, thanks to a return spring that resets with the twist of a knob.
Sold by Amazon and Home Depot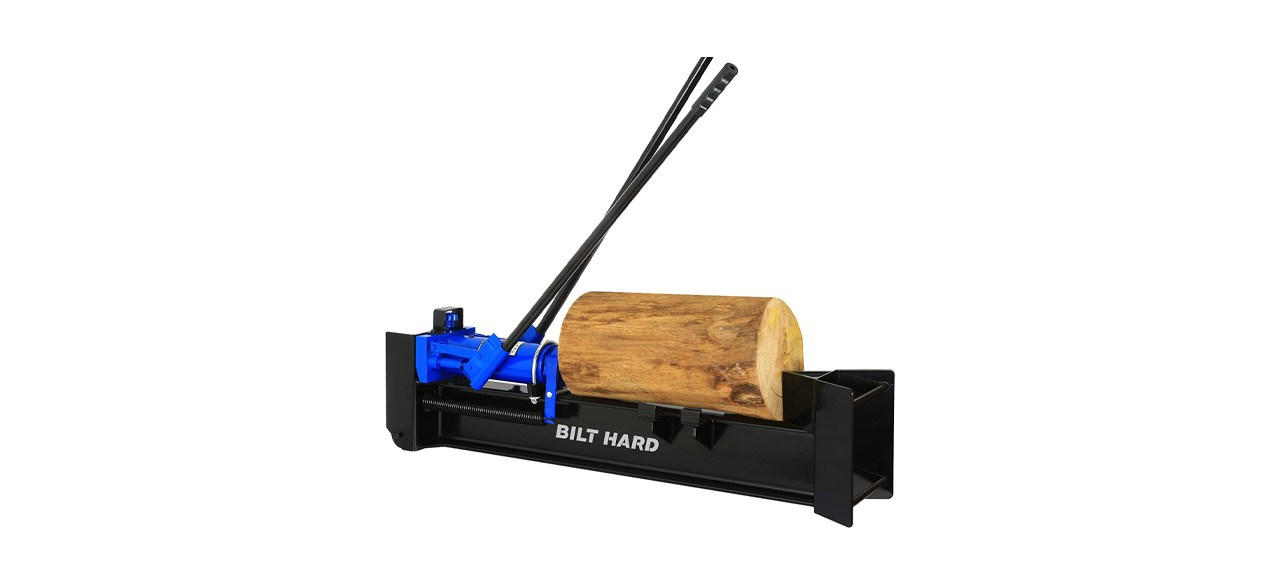 Bilt Hard 12-Ton Hydraulic Log Splitter
With 12 tons of power at arm's reach, this splitter is great for anyone in need of more pressure than a sledgehammer can deliver. It weighs less than 100 pounds too, making it easy to roll across paved surfaces or load into a truck bed.
Sold by Amazon
Best electric log splitters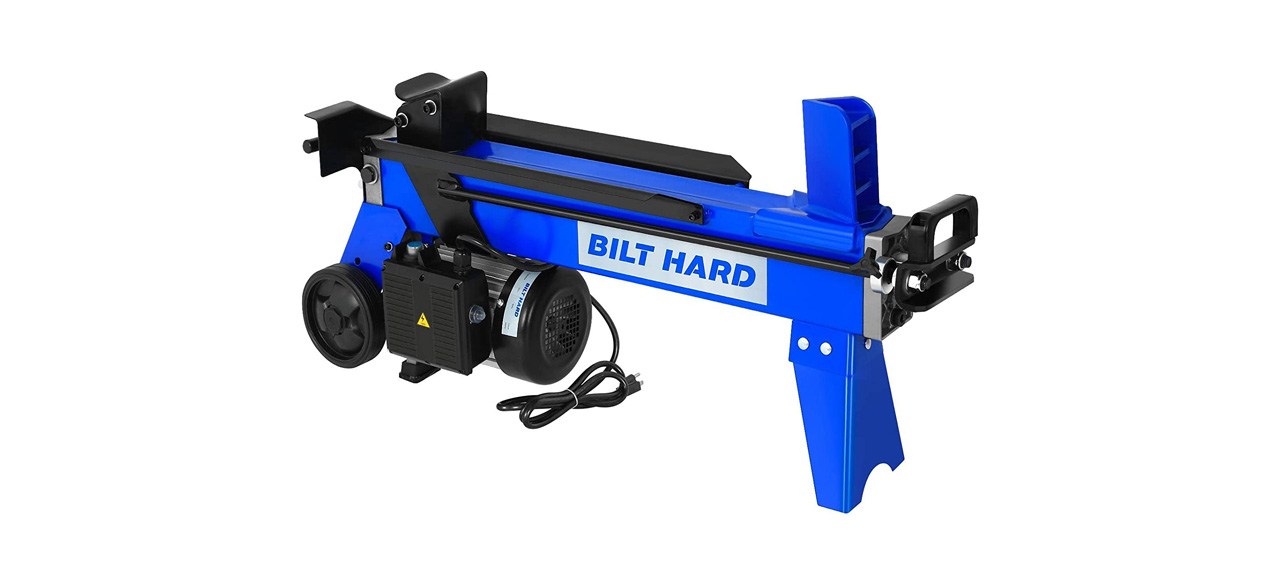 Bilt Hard 6.5-Ton Electric Log Splitter
You can split logs up to 20 inches long with this electric splitter that delivers crushing force without any manual effort. With its pull handle and large wheels, it's easy to move to where you need it, and it can be stored vertically to save space.
Sold by Amazon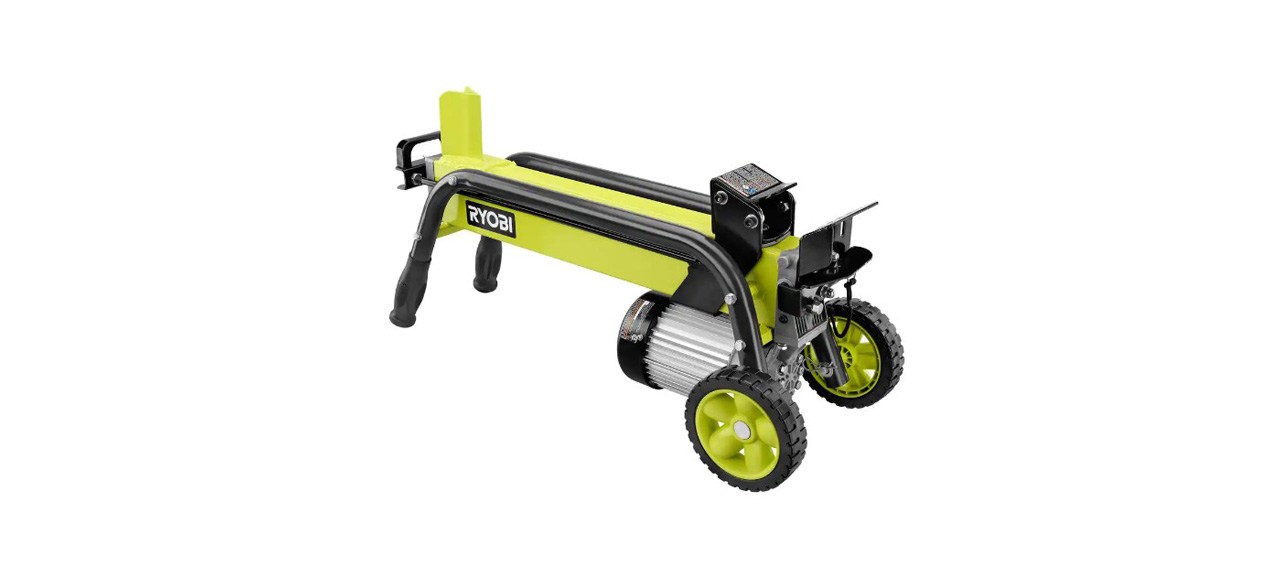 Ryobi 5-Ton Electric Log Splitter
You can start this compact, portable log splitter with the push of a button. With 5 tons of power, a heavy-duty steel frame and a pull handle, this splitter combines functionality and durability in an easy-to-use package.
Sold by Home Depot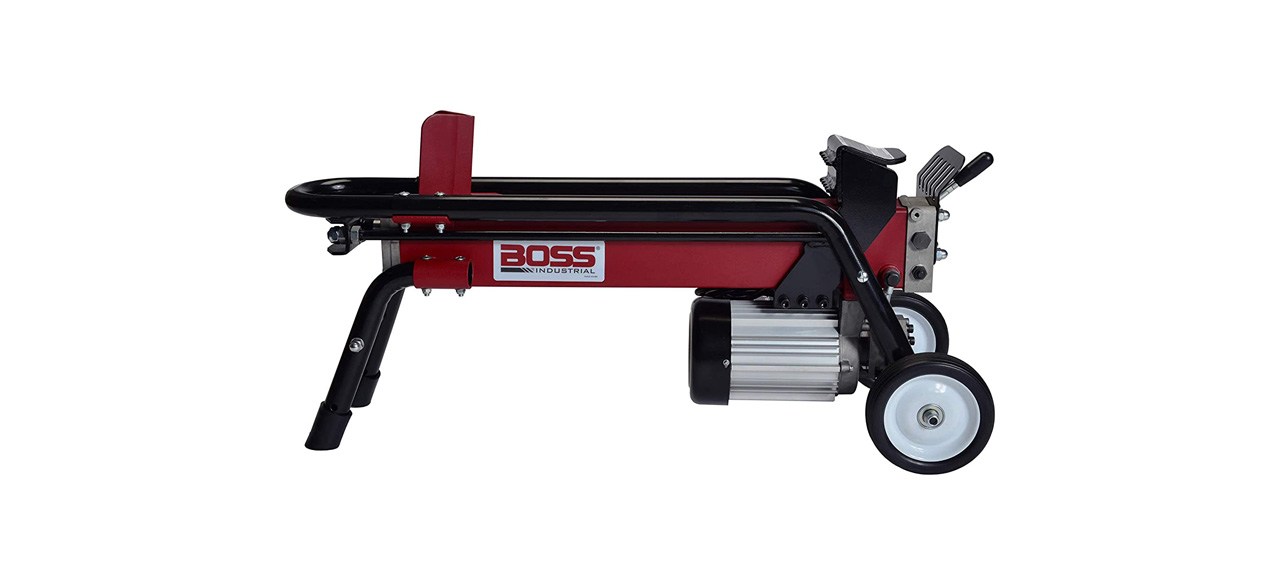 Boss Industrial 7-Ton Electric Log Splitter
With 7 tons of pressure, this electric log splitter has a leg up on the competition with regard to chopping power. You can tackle logs up to 10 inches in diameter with its simple one-handed operation.
Sold by Amazon and Home Depot
Best gas-powered log splitters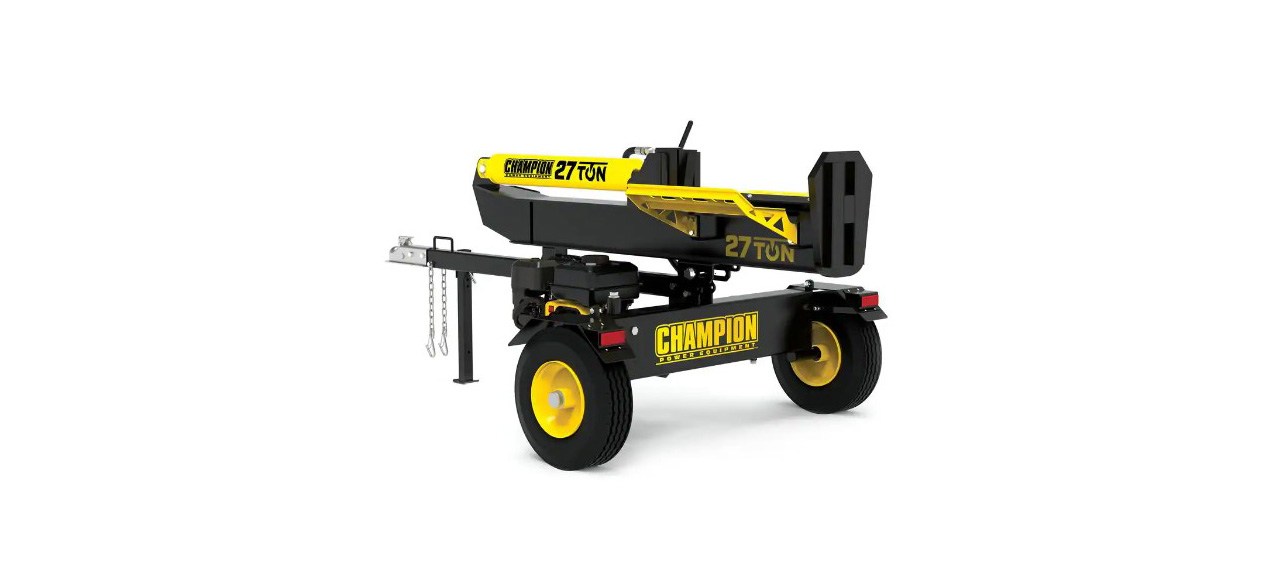 Champion Power Equipment 27-Ton Gas-Powered Log Splitter
This gas-powered log splitter provides 27 tons of pressure for major jobs and can be converted to a vertical configuration for especially heavy logs. It is small enough to fit in most truck beds and can also be towed.
Sold by Home Depot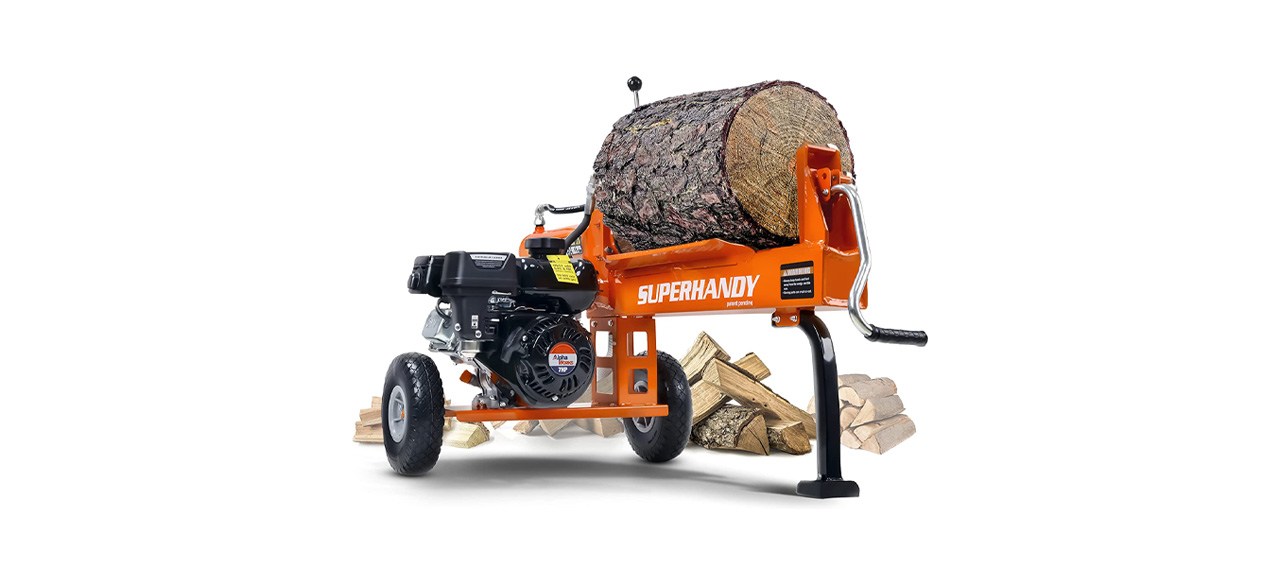 Superhandy 20-Ton Gas-Powered Log Splitter
You can split logs up to 16 inches in diameter, thanks to this machine's 7-horsepower motor. It features 10-inch wheels, an ergonomic pulling handle and an aluminum gear pump housing that lets you work continuously without fear of overheating.
Sold by Amazon
Want to shop the best products at the best prices? Check out Daily Deals from BestReviews.
Sign up here to receive the BestReviews weekly newsletter for useful advice on new products and noteworthy deals.
Derek Walborn writes for BestReviews. BestReviews has helped millions of consumers simplify their purchasing decisions, saving them time and money.
BestReviews spends thousands of hours researching, analyzing, and testing products to recommend the best picks for most consumers.
Copyright 2023 BestReviews, a Nexstar company. All rights reserved.