FOXBORO — As the sun prepares to set on the New England Patriots bye week, they continue to take stock into their performance in all four phases of the game.
At 2-8, the Patriots have seemingly drifted too far from postseason waters to provide hope for recovery. With seven games remaining, the Pats have several tough matchups remaining, including contests with the Los Angeles Chargers, Kansas City Chiefs, Pittsburgh Steelers and Buffalo Bills. 
As a result, the Pats performance in the second half of 2023 appears to be more about their position in the upcoming 2024 NFL Draft, than their final place in the standings. 
Still, in order to move forward, the Pats must evaluate their production through their first ten games of the season. In that vein, here is Patriots Country's progress report at the unofficial halfway point of New England's season.
OFFENSE
Overview: 
Entering the bye week, the Patriots offense ranked No. 31 in the NFL, averaging 14.1 points per game. For better or worse, the quarterbacks have shouldered the majority of the blame — primarily starter Mac Jones. The third-year product of Alabama has completed 65.4 percent of his passes for 2,031 yards, 10 touchdowns and 10 interceptions. 
Once again, Jones' inability to make sound decisions when most needed has caused an obvious regression from which he seems ill-suited to recover. His discomfort in the pocket has led to a foundering of both his confidence and his mechanics — as well as his being benched in three games. New England's coaching staff must prioritize their attempts to repair both his timing and process. If they are unable to do so, the Pats may have no choice but to make an in-season change at quarterback. Still, the Pats must exhibit caution in deciding whether or not to remove Jones. Second-year quarterback Bailey Zappe, veteran Will Grier and rookie Malik Cunningham are collectively inexperienced and have also performed at a subpar level. Without a clear-cut superior option to usurp the starting job, the Patriots appear headed for a difficult decision in the coming days and weeks. 
Despite getting off to a slow start, the Pats' running backs have been their best positional group to date. Rhamondre Stevenson has logged 126 carries for 482 yards (3.8 yards-per-carry) with three touchdowns. Veteran Ezekiel Elliott has been a solid compliment, running the ball 68 times for 331 yards (3.7 yards-per-carry) and two touchdowns. With both Stevenson and Elliott having found their rhythm over the past couple of weeks, the Pats runners have the chance to be a bright spot in a sea of dismal performances on offense.
Unfortunately, the Patriots pass-catchers have provided little spark to an offense in desperate need of playmakers. With the exception of receiver Kendrick Bourne (four) and tight end Hunter Henry (three), no other New England pass-catcher has logged more than one touchdown. Third tight-end option Pharaoh Brown has been solid, catching all seven of his targets for 170 yards and a touchdown, while averaging 24.3 yards-per-catch. However, receivers DeVante Parker and Tyquan Thornton — as well as tight end Mike Gesicki — have mostly underwhelmed and underproduced. 
Lastly, New England's offensive line has been plagued with both injury and inconsistent play. The Pats rank No. 27 in the NFL in pass blocking efficiency at 81.1 percent — though it should be noted that the line has made improvement when blocking for the running game. Ill-timed injuries to tackles Riley Reiff and Trent Brown has caused the Pats o-line to undergo several lineup changes. Their decision to move lineman Mike Onwenu from guard to tackle on the right side has been a smart one. Still, the lack of dependability from younger players such as left guard Cole Strange and swing tackle Atonio Mafi has often led to costly fissures in the line's protection. 
Related: Patriots Paydays: Any Players Earning Contract Incentives in Lost Season?
Offense MVP: Kendrick Bourne
Much can be gleaned from Bourne's selection as New England's best player on offense through their first ten games. Prior to suffering a season-lending ACL tear on during the Pats' Week 8 loss to the Miami Dolphins, Bourne had been the Patriots' top receiver this season with 37 catches for 406 yards and four touchdowns. Despite having not suited up since, he still leads the team in receiving yards and touchdowns. His ability to win his matchups on various alignments within the Pats offense, along with his strong work ethic and positivity make him a player which the Pats brass needs to seriously consider re-signing this offseason. 
Honorable Mention: Demario Douglas
New England's sixth-round rookie has exceeded expectations by compiling 30 catches for 361 yards. He has also added some pop and versatility to their backfield as a ball carrier. Douglas' 6.7 yards after catch per reception place him in the top 10 among receivers in that category. Though he has yet to find the end zone, Douglas will remain one to watch in the unofficial "second half" of the season. 
Needs Improvement: JuJu Smith-Schuster
Though he has statistically underwhelmed during his brief Pats tenure, Smith-Schuster possesses the ability to routinely gain yards after the catch (YAC) — a trait which was expected to endear him to Patriots offensive coordinator Bill O'Brien. However, Smith-Schuster has logged only 22 catches for 149 yards and one touchdown. With Bourne out for the remainder of the season, the veteran receiver should see additional looks from the slot, where the Pats hope that he can recapture some of the prowess which earned him 141 yards above expectation, as well as an average of 5.8 yards-after-catch per reception last season. 
Overall Grade: D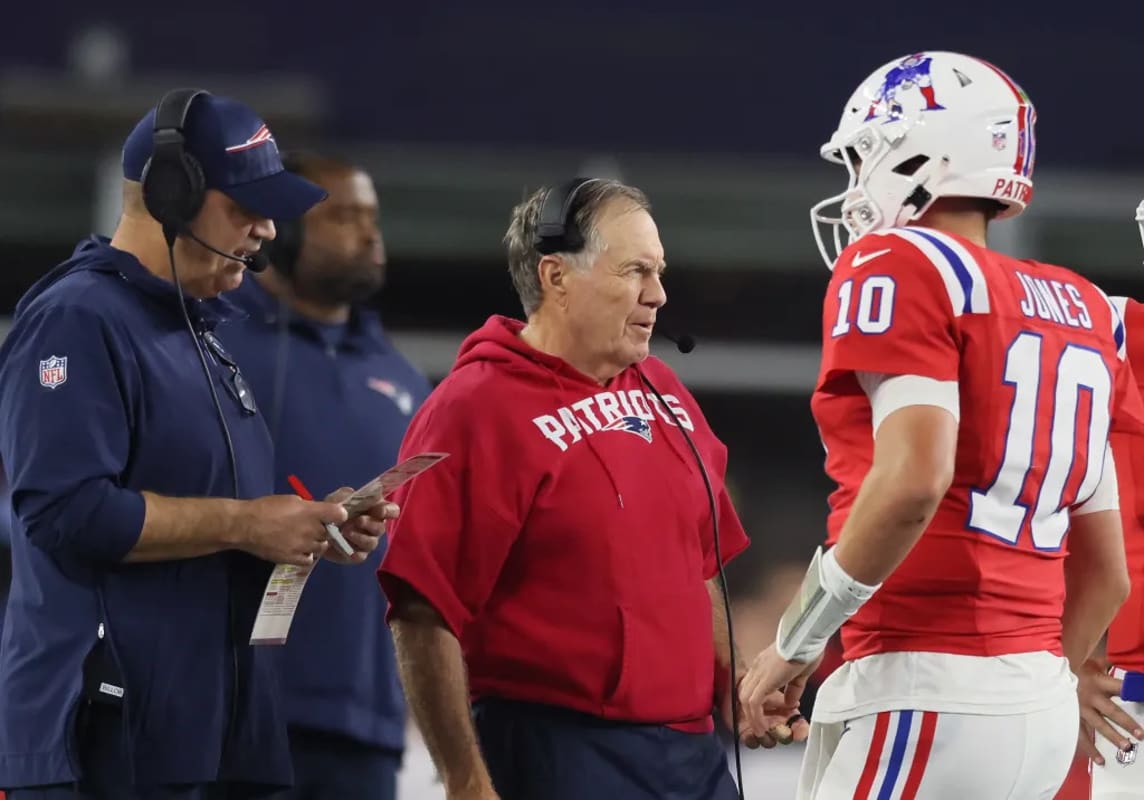 DEFENSE
Overview: 
New England's defense entered the season's colloquial midpoint ranking No. 23 overall, allowing 23.8 points per game. Having lost both their top linebacker (Matthew Judon, torn biceps) and alpha cornerback (Christian Gonzalez, torn shoulder labrum,) the Patriots faced a nearly insurmountable task in keeping their defense afloat, let alone formidable. Still, they have done so thanks largely in part to stellar performances from members of their front seven. Not only has New England's defensive line been stout against the run, they have also found ways to get pressure on opposing quarterbacks. Tackle Davon Godchaux and defensive end Deatrich Wise have each shown versatility in both run and pass defense, with Wise leading the team in pressures with 26. 
Linebacker Jahlani Tavai has been one of New England's most-pleasant surprises in 2023. The Hawaii product has played in all 10 of the team's games, logging 61 total tackles (two, for loss), three quarterback hits, four passes-defensed, one interception and one forced fumble. He also has the lowest passer rating allowed (with a minimum of 20 targets faced) in the NFL with 54.0. Ja'Whuan Bentley leads the team with 68 total tackles, while fourth-year linebacker Anfernee Jennings has set a career-high by taking 377 snaps on defense. 
When evaluating New England's defensive backfield, the losses of both Gonzalez and second-year speedster Marcus Jones must be taken under consideration. However, both Jonathan Jones (due to injury) and Myles Bryant (playing mostly on the perimeter, rather than the outside) have struggled to contain their targets. With Jack Jones now a Las Vegas Raider, New England will need cornerback J.C. Jackson to step up and be a significant presence in the secondary. Since switching to a more comfortable role in the box, safety Kyle Dugger has been more productive as of late, having logged 67 total tackles (five, for loss), four passes-defensed, two interceptions and one sack.  
Defense MVP: Jabrill Peppers
Peppers has been instrumental in keeping the Patriots secondary respectable — and at times, formidable — this season. The former 2017 first-rounder has compiled 59 total tackles (four for loss) six passes-defensed, one interception, a forced fumble and a fumble recovery. Having taken 95 percent of the Patriots defensive snaps (as well as 75 snaps on special teams), Peppers is on-pace to finish the season as one of the NFL's top safeties. Though he has played more deep safety, as opposed to the box, the Pats will look to maximize his strengths by deploying him in both roles throughout the next seven games. 
Honorable Mention: Christian Barmore
Barmore has arguably been the player most responsible for the strong play of the Patriots front seven. The Alabama product has compiled three sacks, five tackles for loss, and six quarterback hits in 2023 (all career highs), while earning 27 total tackles. He is also tied with Wise for the team lead having logged 26 pressures. Should he continue his progress into the Pats post-bye week schedule, Barmore is likley to emerge as the team's defenisve MVP for 2023. 
Needs Improvement: J.C. Jackson
Jackson re-joined the Patriots via trade from the Los Angeles Chargers in early October. The 27-year-old spent from 2018-21 with the Patriots — a four-year stint which included a Super Bowl championship (LIII) and earning nods as a Pro Bowler and an All-Pro. However, he has yet to recapture his previous prowess, having logged only 14 tackles and three passes-defensed since his return. After being declared inactive for New England's Week 10 loss to the Indianapolis Colts in Frankfurt, Germany, Jackson should be expected to return to the field as a productive perimeter corner.
Overall Grade: B-
SPECIAL TEAMS
Despite being a team known for placing a premium on special teams prowess, New England continues to exhibit futility in the game's third phase. The Pats special teamers rank No. 24 in the NFL with a 67.1 PFF special teams grade. Their 12 special teams penalties land them at second in in the league in said category. Rookies Chad Ryland and Bryce Baringer have shown flashes of distinction, with Baringer being the most consistent of the two. The Michigan State product has logged 50 punts, with his longest going for 79 yards. Conversely, Ryland had connected on 12 of 17 field goals, with a 51-yarder to his credit. Still, the inconsistencies manifested by this unit continue to outweigh the occasional bright spots.
Overall Grade: C-
COACHING
Patriots coach Bill Belichick has long believed that the preeminent source of leadership on any given sports team should be that of the head coach. Accordingly, they are either praised for winning, or are forced to shoulder the load in times of defeat. At 2-8, Belichick is being held accountable for the team's struggles. However, the problems run much deeper than the head coaching seat. On offense, coordinator Bill O'Brien has underwhelmed in his attempts to transform what had been an anemic offense in 2022, as have positional coaches Adrian Klemm (offensive line), Troy Brown (receivers) and Will Lawing (tight ends). Special teams coordinator Cam Achord, even with the help of former coordinator Joe Judge, has struggled in his efforts to improve the quality of special teams play. The solid play of the defense, led by Jerod Mayo (inside linebackers,) Stephen Belichick (outside linebackers) and DeMarcus Covington (defensive line) helped to raise the overall coaches grade above a "D." Still, there is much work to be done in the team's final seven games — which many speculate may be Bill Belichick's final seven games as Patriots head coach. 
Overall Grade: C-
Up Next: 
New England will begin its unofficial "second-half" of the season on Monday when they return to Gillette Stadium to prepare for their Week 12 matchup with the New York Giants at MetLife Stadium on Sunday, Nov. 26 at 1 p.m. ET.